Since yesterday we have been at Level 3 restrictions. Part of that means that all places must register visitors for contact tracing. The practice of contact tracing has been a very effective means of controlling community spread. The methods that are in place are extremely easy to implement, Thanks to Audrey Tang, Taiwan's Digital Minister.
https://twitter.com/audreyt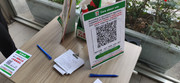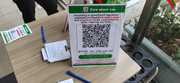 The above photos were taken at our local 7-11. All one does is scan the QR code. The results are displayed in the phone in a browser. One simply copies the results and sends an SMS text message to the number indicated. That's it! Literally takes between 5 to 10 seconds. For those that do not carry a smartphone, there is a paper form for their information.
This is a brilliant system and another demonstrable way that
Taiwan Can Help
.
Oh yeah, I got a registered mail today and the postman sprayed my hands with alcohol before he left.