As promised, I was searching for
Dragon Moustache
and I scored a double-hit with the Pineapple Shrimp (balls) as mentioned by Fides. I have also seen it translated in Engish as "Dragon Whiskers" so you may have more success searching for that term.
The strange this is, it's one of my own articles, lol.
But before I begin, let me show you a screenshot of my phone at the begging of the Happs broadcast. I was complaining about all the junk on the screen, including their suggestions on how to run your stream. It was annoying and it only goes away as comments push the junk off the screen.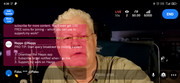 Now, back to the topic.
We Blog The World used to reprint my posts, with permission:
https://weblogtheworld.com/formats/feat ... vegetables
This is the original blog post (my site since 2005):
http://www.thenhbushman.com/2011/04/14/ ... food-1114/
This is a listing of the entire Food category from our blog, if you're interested:
http://www.thenhbushman.com/category/food/
You can see how I gradually left off posting on the blog after many years. I got busy with Phoenix, music and other stuff. This forum seems to have replaced the blog, but, the thing that really replaced the blog was
live streaming
. It's a lot easier for me to turn on my camera and just say things rather than type them. But the irony is now I'm live streaming and then writing (what is essentially a
blog post
) about it on this forum afterwards, explaining things in more detail and showing photos. So, go figure, lol. Maybe I should find a way to import all of the old blog posts into this forum? The Wordpress site does have an RSS feed, so it should be possible in theory at least.
On the broadcast, I also mentioned being in Hegang, China. This is an article about a dinner we had there:
http://www.thenhbushman.com/2009/04/27/ ... in-hegang/
This is all of our articles about Hegang:
http://www.thenhbushman.com/tag/hegang/
I may add more to this post as I remember things to add.