Today's report does not look good: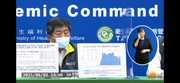 It was announced today that there was an increase in local transmission. I think that eventually, Covid-19 is going to make its way though the entire Taiwan population. Unfortunately, it's starting to look like vaccines are the only way to stop this monster, and I'm not looking forward to having spike proteins injected into my body. Just as unfortunate (and quite frankly,
stupid
) is the fact that our Taiwan CDC is apparently oblivious to Ivermectin and it's successful use around the world. I personally sent an email to the Director-General of the Taiwan CDC in order to make him aware of the numerous studies that have been done in Ivermectin. I haven't had any response from him, nor have I seen anything in the Taiwan news about Ivermectin. I just hope that if I get this dreaded disease, they will listen to my demands for it.