Since I got my gimbal I've picked up a couple of accessories. At the store, there was 1 aftermarket case available that was cheaper if I bought it at the same time, so I did. The cost was about $13 USD.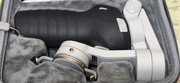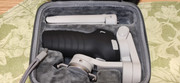 For an aftermarket case it fits the gimbal like a glove. Highly recommended. There are quite a few companies producing cases like this and some of them feature shoulder straps. This one has a hand strap.
Notice the black handle: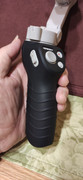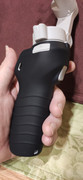 This is a silicone cover for the handle. It has all the appropriate cutouts and there are ridges that help with the grip. I find it soft and comfortable to hold and yet easier to have a firm grip on it so it doesn't slip. There are cutouts at the bottom for the lanyard so you can still use the wrist lanyard with the grip. I have no idea how protective it would be in case of accidental falls, but it has to be better than nothing. Also, this cover will protect the finish from skin oil corrosion.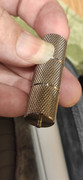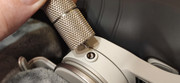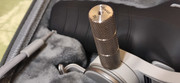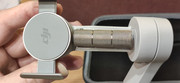 This is a set of counterweights that can help you balance your phone in the gimbal. Sometimes we want to use an external lens, or as in my case, offset the phone from center. My particular phone has the camera array in a line down the back of the device. The ultra-wide angle lens is at the bottom of the lens array, closest to the center. If I mount my phone dead center in the gimbal mount, I can see the rear motor in the UWA lens. In order to get that motor out of the frame, I have to move my phone off-center which naturally unbalances it. Adding the counterweights can help balance an unbalanced situation.
There are various weight sets you can buy. This one is comprised of 3, 20g weights that are tapped on one end and have a threaded stud on the other end. The gimbal has a threaded boss on the side of the rear motor for the purpose of attaching accessories such as counterweights. You simply thread the counterweight into the boss and finger-tighten it. Add more weights to compensate for what you are doing. The last photo shows that with all 3 of these weights in place, they still clear the motor at the end of the rear arm.